Last revised: Feb 28, 2023
Wellfleet is the original Hang gliding and Paragliding site in the Northeast United States! First flown by German Glider experimenters in the 1920's and then again in 1972 with Rogallo's and Biplane Hang gliders, it is a classic seaside soaring site. Through careful negotiation with the Town of Wellfleet and the National Seashore, we are allowed to continue to fly this epic site. On soarable days, one can fly from lighthouse to lighthouse along a scenic ridge nearly 20 miles long. Hang glider friendly, the site is used by Paragliders, Mini wings and Hang gliders when the wind picks up. NEPHC members have managed the site for nearly 20 years and our attention to safety and following the established rules will help keep Wellfleet open.
Flight Type: Coastal, ridge soaring
Recommended: current USHPA and NEPHC memberships
USHPA Rating Requirement: H3/P3, H2/P2 with mentor
Flying restrictions: The town of Wellfleet allows flying only from October 2 until April 14. Check the Town Beach regulations before you fly or NEPHC (info@nephc.org) for exact dates before you fly.  If you fly during prohibited times, you run the risk of being caught, jailed, fined, and/or your equipment confiscated.
Wind direction: ENE (Ideal: 070-90 degrees, OK: 50-110)
Wind speed (PG):

8 mph minimum
10 mph ideal
15 mph maximum – do not launch a standard sized paraglider in wind exceeding 15 mph unless you are certain you have the skills and your glider can penetrate. 
+3 mph maximum gusting

Wind speed (PG mini-wing):

14 mph minimum
18 mph ideal
24 mph maximum – do not launch wind exceeding 20 mph unless you are certain you have the skills and your glider can penetrate. 
+2 mph maximum gusting

Wind speed (HG):

10 mph minimum
15 mph ideal
20-25 mph maximum – depends on experience and skill of the pilot
+5 mph maximum gusting

Launch:

41.934225, -69.979792

. 

East/Northeast facing cliff launch ~70 feet in altitude. Please politely ask spectators to stand at least 30ft. away (especially downwind) and clear of the launch as this endangers not only them, but you too!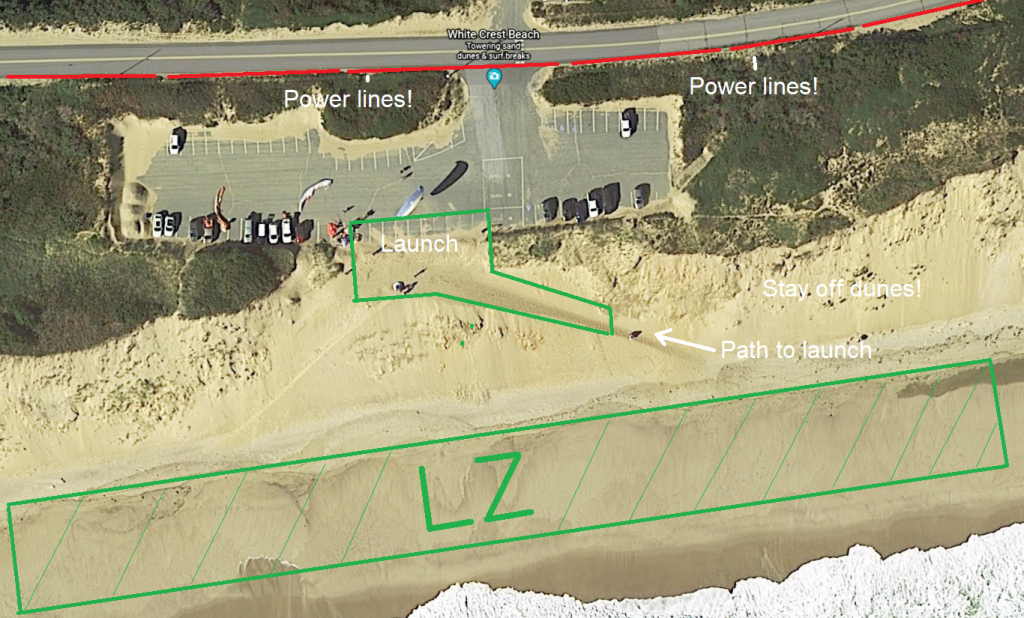 Airspace: This site has no airspace restrictions. Occasional low flying aircraft in the area.
Hazards: People, cars and objects close to launch, High tide can reduce the beach LZ to a very narrow strip, wind gradients, town signs to the left of launch, power lines at the rear of the parking area. Rotor and turbulence behind the ridge, tree limbs near the top of the ridge, possibility of blowing back behind the ridge in strong winds, in strong crosswinds, turbulence near the slope. Due to the narrow beach and the open ocean, the possibility of a water landing is always present. While Wellfleet is an easy-to-fly site, do not discount the real danger of landing in the ocean surf. Do not attempt to scratch too low while soaring in light conditions, creating the bad choice of either landing downwind or making a low and tight turn near the water. The beach drops off steeply, which can create a riptide, creating real peril for a water landing.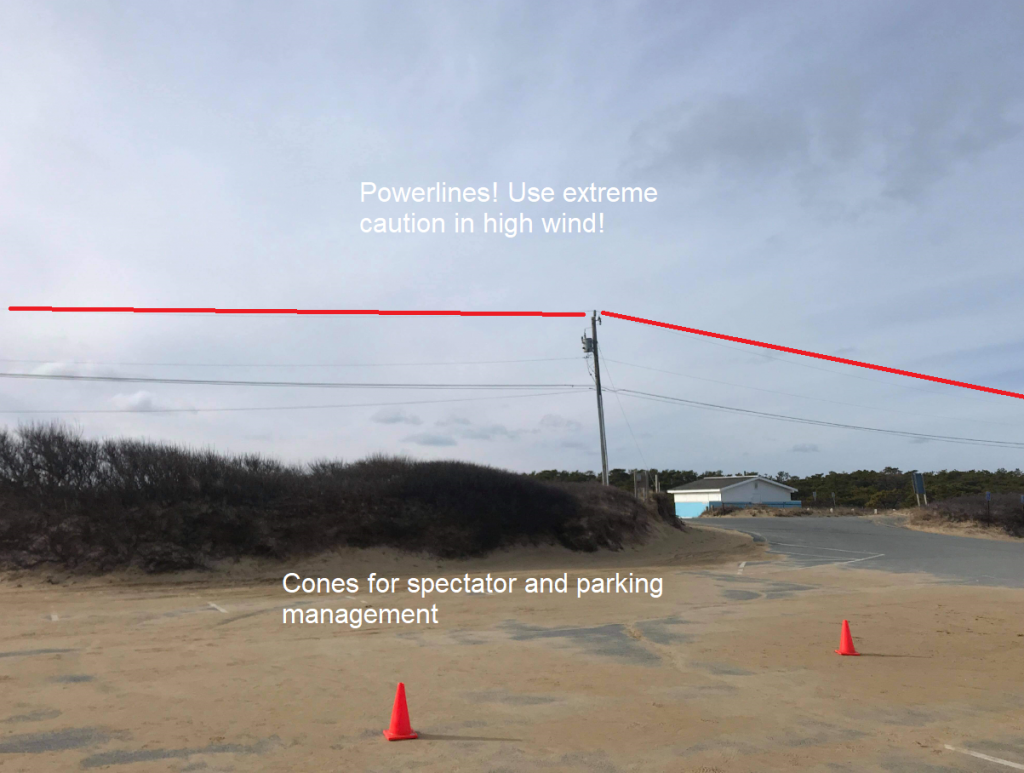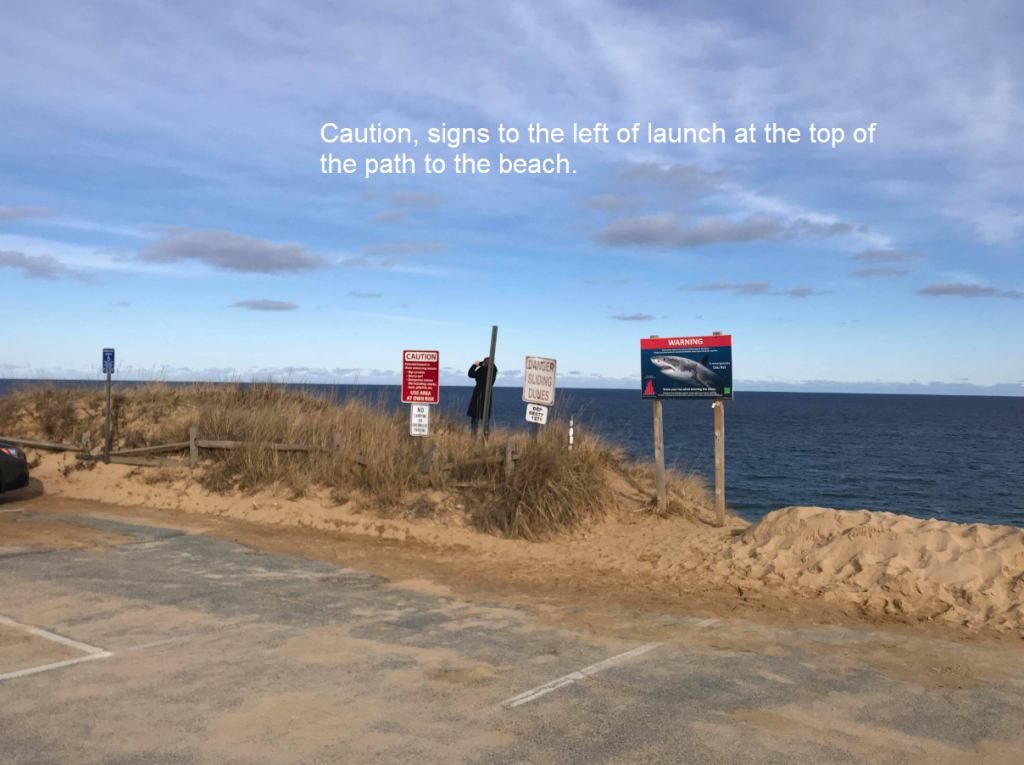 Landing zones: Top landing and landing on the beach. Land downwind of launch giving right of way to launching pilots.
Min Req Glide Ratio: 1.7
Parking Zone: 41.934225, -69.979792. 740 Ocean View Dr, Wellfleet, MA 02667.  Avoid parking close to launch to avoid issues with failed launches. 
Rules and Regulations
DO NOT LAND OR WALK ON THE DUNES except directly on the paths down to the beach in front of launch.
KITING ONLY DOWNWIND OF LAUNCH to avoid flight path of launching and landing pilots.
Keep a respectful safe maneuvering distance from the cliffside houses to the South of launch.
No Crowding – Don't fly back and forth in front of launch or try top-landing when other pilots are waiting to launch. When conditions are good you have lots of ridge to spread out.
Spectator control – Kindly ask vehicles and people to avoid space behind the launch to avoid accidents. Orange cones are typically set up to warning the public and cars parking.
Pilots are encouraged to avoid parking in the South-east corner of the parking lot to allow Hang glider pilots to set up close to the dune in the wind shade.
P2s are recommended to fly with a high-vis streamer at least 2m (6ft) in length.
This site is environmentally sensitive we are guests of the Town of Wellfleet, The National Seashore and the local community and fly here because of their generosity!
Safety
Always follow USHPA Safety guidelines.
Never fly alone.
Speed-bars must be connected whenever ridge-soaring in a paraglider. Pilots have been blown behind launch and from kiting on the beach in high wind.
No Aerobatics, stay clear of the launch area when others are trying to launch.
Always carry a hook knife and practice getting out of your harness and finding your hook knife. An accidental water landing can be extremely dangerous.
Check the Tidal forecast as well as monitoring Wind forecast. As the site faces North East, soarable conditions can be associated with storm events. Be aware of launching into building conditions.
Use a GPS equipped variometer to monitor your ground speed into the wind.
Be aware of the possibility that the beach landing area can be greatly reduced by high tides.
Land at least 100ft from anyone on the beach.
Landing Zone: It is highly recommended to land on the beach. The parking lot used for top landing is paved, can be crowded and is very close to powerlines at the rear of the parking lot!
Land downwind of launch giving right of way to launching pilots.
Airspace Rules
Stay clear of pilots with ribbon indicators — these are novice pilots informing you to give them space!
Stay away from launch as best as possible unless you are either landing or crossing from north to south.
Kite on the beach and away from the launch site — avoid any area where a launching pilot can land if he should decide to abort!
Follow all right of way rules! Please watch this video if you would like further guidance.